Sypialnia to przestrzeń, która ma dać wytchnienie po ciężkim dniu pracy. Szukamy tu odpoczynku, relaksu i odprężenia. W dużej mierze na takie samopoczucie wpływa aranżacja przestrzeni, w której się znajdujmy. Wie o tym doskonale projektantka wnętrz, i autorka bloga poliszdesign.pl, Kasia Szostakowska, która zaprezentowała w ostatnich dniach metamorfozę sypialni z użyciem tapet Londonart.
Sypialnia, z którą inwestorka zgłosiła się do Kasi była w zasadzie wnętrzem zaaranżowanym bezbłędnie. To mała przestrzeń, wykorzystywana tylko do nocnego odpoczynku. Jak się okazało, mimo iż przestrzeń nie wymagała remontu, dzięki kilku trikom zyskała klasę i styl.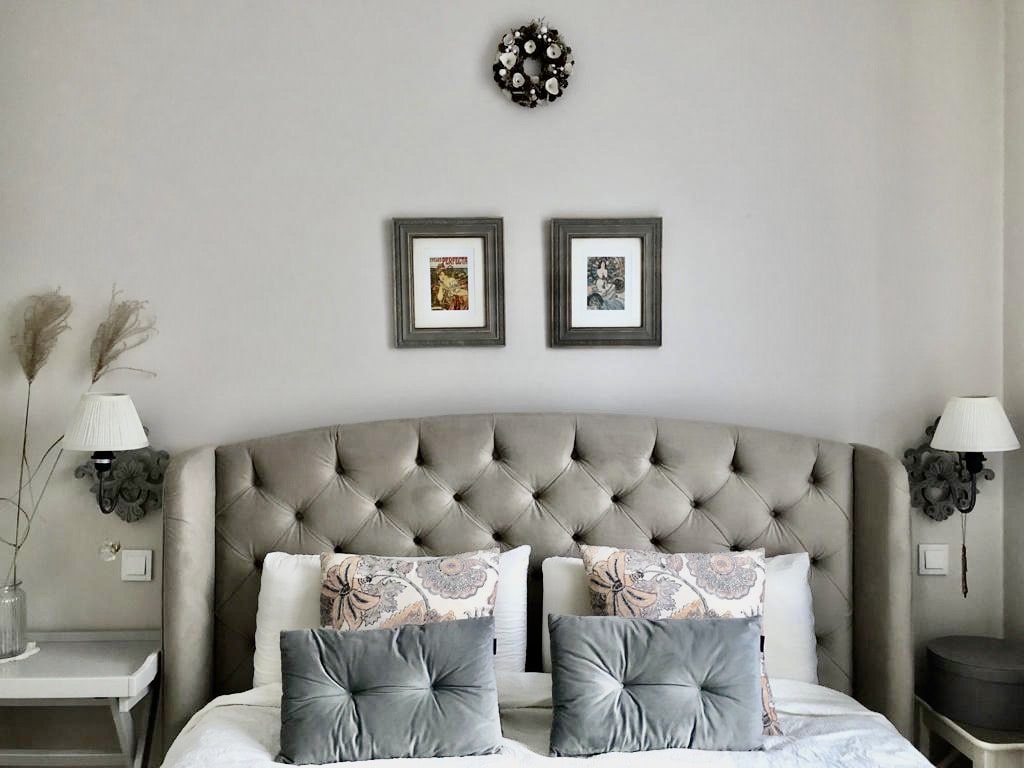 Projektantka dobrze zna estetykę i styl życia swojej klientki. Wiedziała też w jakiej gamie kolorystycznej się poruszać, aby obok pięknego wnętrza osiągnąć efekt przestrzeni gwarantującej odpoczynek i zapewniającej komfort snu. Wiele elementów wnętrza pozostało bez zmian, choćby łóżko. Zdawać by się mogło tym samym, że bez wymiany tak ważnego elementu w sypialni, wnętrze nie ulegnie spektakularnej przemianie. Nic bardziej mylnego.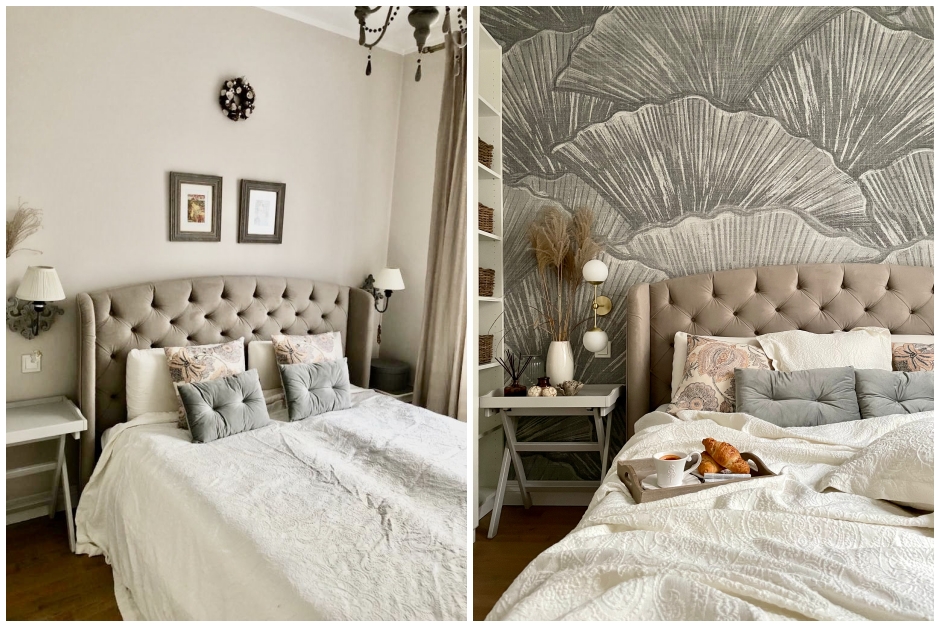 Metamorfozie uległa główna ściana w pomieszczeniu, za zagłówkiem. Jednolitą płaszczyznę zdobiły dotąd dwa obrazki, nieproporcjonalnie małe. Projektantka zastosowała tapetę Londonart, z kolekcji Biloba na rok 2020. Łamiąc stereotypy, iż nie stosuje się dużych wzorów do małych wnętrz osiągnęła wspaniały efekt. Uzupełniając aranżację nowym oświetleniem i kilkoma dodatkami dokonała prawdziwej przemiany. Wnętrze zyskało charakter. Co o projekcie mówi sama projektantka?:
"Tapeta LondonART miała tu stanowić piękne tło dla naturalnych tkanin, odcieni beżu i złotych dodatków. W naszym wypadku najlepszym wyborem okazała się tapeta z kolekcji Biloba, której faktura przypomina tkaninę. Wzór liści miłorzębu w tym sezonie jest wyjątkowo modny, zarówno we wnętrzach, jak i w biżuterii-odnajdziemy go np. na tkaninach, w kształcie kinkietów, pater oraz pierścionkach i naszyjnikach." – Kasia Szostakowska, poliszdesign.pl
My ze swojej strony gratulujemy spektakularnej metamorfozy i życzymy kolejnych, równie udanych projektów.
---
W dniach 23.11-01.12, w wybranych showroomach w całym kraju, otrzymacie do 15% upustu na wszystkie zlecenia wizualizacji i zamówienia dowolnej tapety z oferty LondonArt, z gwarancją realizacji przed świetami.
Katalogi i cenniki są dostępne pod LINKIEM.
Showroomy, które dołączyły do akcji #BlackWeek z Londonart:
Terrano.pl – Poznań, Zielona Góra, Piła
Maxfliz.pl – Kraków, Katowice, Wrocław, Warszawa
Bawa Wnętrza – Wysogotowo k. Poznania
Deska Design.pl – Gdańsk, Gdynia,
Gres – Łódź
Parkiet Styl – Toruń
iHome – Radom
Mikołowska51 – Katowice
SOS Design – Kielce
Glaz-Bud – Łódź
Sanimex – Gliwice, Katowice
Milionova – Łódź
Interium – Warszawa
Vzorcovnia – Kalisz
DesignD10 – Gliwice
49 Concept Store – Poznań